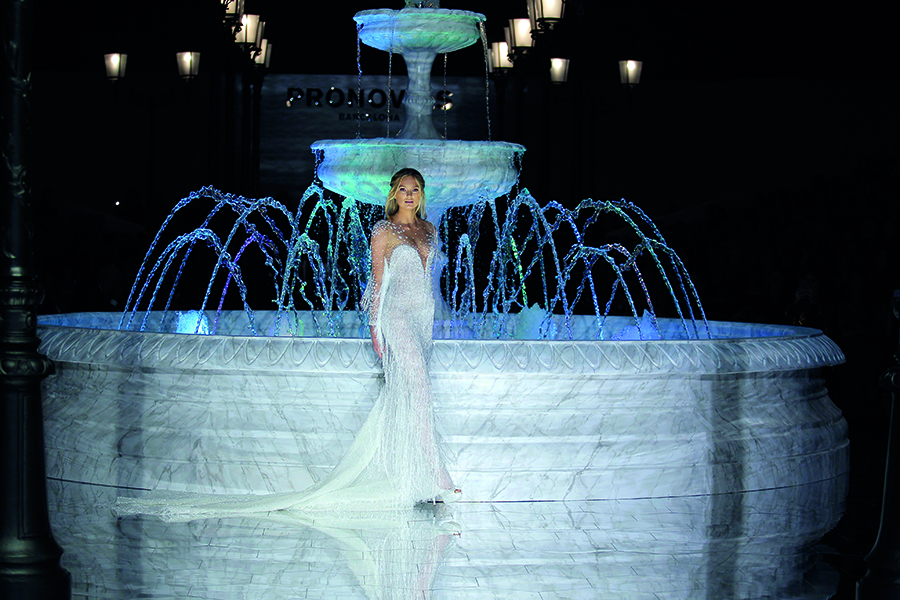 28 Aprile, Barcellona.
Museo d'Arte della Catalogna (MNAC).
Oltre 2.000 invitati, celebrity di tutto il mondo. Tutti lì per un unico spettacolo, quello di Pronovias per la presentazione della collezione Atelier Pronovias 2018. Inutile dirlo, la sfilata è stata un vero e proprio show: al centro della passerella una grande e maestosa fontana e poi le modelle, stupende, con vestiti da far perdere la testa, che subito ti fanno sognare. Gli abiti, elegantissimi e sexy, come solo Pronovias sa fare, propongono linee morbide, sensuali. Tutti sono arricchiti da dettagli preziosi: pizzi, perline, gemme, pietre, organza e chiffon. Ad aprire e chiudere la sfilata la super top Romee Strijd, insieme ad altri Angeli di Victoria's Secret come Cindy Bruna, Breje Heinen e la bellissima Marthe Hunt.
Un sogno ad occhi aperti, che per la prima volta nella mia vita ho potuto vivere dal vivo, che mi ha fatto emozionare come non mai e che mi ha trasmesso un'emozione fortissima che credo potrò rivivere solo tra qualche mese, per il giorno del mio matrimonio. Grazie Pronovias per questa magica esperienza.
April 28, Barcelona.
Museum of Art of Catalonia (MNAC).
Over 2,000 invited and celebrities from all over the world. All there for a single show, those of Pronovias, for the presentation of the Atelier Pronovias 2018 collection. Needless to say, the fashion show was a real show: at the center of the catwalk a great and majestic fountain and then the gorgeous models with beautiful clothes, to lose your head, which immediately make you dream. The dresses, elegant and sexy, as Pronovias can do, propose soft and sensual lines. All are enriched with precious details: lace, berls, gems, stones, organza and chiffon. To open and close the show the super top Romee Strijd, along with other Victoria's Secret Angels like Cindy Bruna, Breje Heinen and the beautiful Martha Hunt.
A dream that for the first time in my life I was able to live, which made me feel like never before and sent me a very strong emotion that I think I can only live in a few months for my wedding day. Many thanks Pronovias for this magical experience.